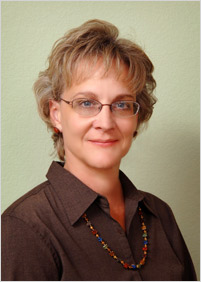 Angela Bellantoni Ph.D.
President & Environmental Scientist
Angela Bellantoni, President and Environmental Scientist at EAI, received a Bachelor of Science in Chemistry from Pacific University, a Masters of Arts degree in Secondary Education with an emphasis in multiple and varied assessment techniques from Northern Arizona University, and a doctorate from Rutgers University in Environmental Sciences with emphasis in pollution prevention and remediation. Review her dissertation abstract below.
Click here to download Angela's abstract [12 KB Word doc]
Angela is a certified visual emissions evaluator (opacity reader) and a graduate of Leading Business Program in Colorado. She has authored and presented community workshops, employee training, and community outreach programs for regional government organizations, private businesses, and city & county governments. Angela's strong chemistry background and years of teaching experience allow her to communicate the intricacies of environmental issues to any audience.
Since 1998, Angela has served as President and Environmental Scientist for Environmental Alternatives, Inc. (EAI), a one-stop environmental consulting firm that offers advanced degree experience to solve environmental issues in rural areas. EAI resolves environmental compliance from a comprehensive perspective, considering the impact on water, air, land use, resource management and economic feasibility.
Prior to establishing EAI, Angela was employed by Twin Landfill Corporation to serve as public liaison and construction coordinator for a landfill constructed in Fremont County, Colorado. Once the project was completed, the prime construction contractor of the landfill, A &S Construction, hired Angela as Environmental Compliance Coordinator for the parent company, and seven subsidiary companies throughout Colorado. She was responsible for all environmental and land use permitting and compliance for 13 mine sites, 4 asphalt and concrete plants, and all project construction sites. In addition, Angela developed and implemented the company safety and MSHA program.
---
Certificates:
Visual Emissions Evaluator – Eastern Technical Associates
Introductory and Advanced Topics in Hazardous Waste Management and Environmental Programs – Colorado Department of Public Health and Environment
Future Water Leadership Seminar – Upper Arkansas Watershed Council
Colorado Leading Edge graduate
Colorado Oil, Gas and Mineral Land Law – HalfMoon, LLC
---
Memberships:
Former Planning Commissioner for the City of Cañon City
Fremont Economic Development Corporation Executive Committee & Board member
Former Southern Colorado Economic Development District Board member
Colorado Sand Stone & Gravel Association member